Obituary for Kenneth Patrick Rogers
Kenneth Patrick was born February 15, 1944 into a world of negligence. Originally raised in the heyday of Over the Rhine. He was mugged by older boys on the way to school for his lunch money regularly. At seven years of age his life took an extreme turn for the better when his aunt Helen and Uncle John took him in as their own. They raised him as if he had been their birth child. This is when he was educated about god and began his life in the Catholic faith. He was also taught about work ethic, he caught on quickly. Although not wealthy, Ken had everything he needed and a few extras, including a horse. This would later lead to his passion for raising his future family on a farm. In these early years, he had a neighbor/friend Sue Mueller who remained a friend throughout his life.
He was provided with a private grade school education. In high school, he was initially sent to Dixie Heights. He strongly believed in a catholic education, he was determined to pay his own way through Covington Catholic High School. He worked as a huckster selling fresh vegetables, sold newspapers, worked at Dusing Bros. Ice, and anything else he could think to do to pay for his last three years. Not only did Ken work to pay for school but due to tuition increases he had to negotiate with his principle to keep the same tuition as his Junior year so he could stay and graduate from Covington Catholic. During these crucial years of life, he met Chris Rauf, Kenny Williams, Lou Schlosser, Paul Funke & Bob Tewes, with whom he remained friends.
When Sue Mueller began dating Chris Rauf, Ken inevitably met the neighbor's boyfriend (future husband) and they became inseparable friends to the end. He and Chris would go on to be the best man in one another's wedding and raise their families together. This bond was so close is children continue to consider them Aunt Sue and Uncle Chris.
After high school, he signed up for the Navy to follow in the footsteps of his loving adoptive father John Melough. In the Navy, he traveled the world and experienced life as never imagined. During his Navy years he lived through another adventure when he fell from a ship he was painting breaking several bones and injuring his back. Being the man, he was he refused to take a medical discharge and contuse his enlistment through to completion. While in the Navy, Trudy Tewes began corresponding with him. Upon completion of his Navy enlistment he dated Trudy, the woman he would later marry. A couple of the many reasons he was attracted to her were her work ethic and rural/farming upbringing, qualities he wanted to instill in his future children. He entered the college of Business at the University of Cincinnati in hopes of enabling himself to afford the large family and farm he intended to have.
On March 20th, 1971 Ken and Trudy were married. The honeymoon was quite effective as nearly nine months to the day later their first child, Juliet entered this world. The desire to have a boy was strong and they continued their efforts. After five girls, the FINALLY has their boy but they did not stop there. That perfect number 7 must have been calling as they finalized their family at seven: Juliet, Jenny, Joy, Angela, Sheila, John and Kevin. From early on he took the family camping with other families including that of Chris and Sue Rauf, Brent and Anne Lukey and other friends he met along his path. His family became his number one priority and all his decisions were with their best interest in mind. His sarcasm was engrained in each one of his children, this has provided them with the ability to respond as if on que to ease tensions or add humor at times to ease emotional pain. After the birth of Juliet, they bought a run-down 16-acre farm. After buying the farm and fixing the yard he built a new home for his family and a new barn for his animals. "Through the years" he made certain that his family could work as a team by gathering them to help build fences, maintain the yard, stain wood for the new house and much more. Always one to save a penny as having seven children requires, he did much of the work on the house himself with the help of friends and family.
As the family grew and the kids became involved in extracurricular activities it was a priority for him to be as involved as possible. He became a basketball coach, soccer coach and referee, 4H volunteer, school field trip driver/leader, etc. He taught the kids how to ride bikes, horses, put them in swim lesions, sports and a number of other things each child seemed to enjoy or thrive on. Every effort was made to provide each of his children with the right mix of education and extracurricular activities to enable them to live to their full potential. He took them camping, hiking, and canoeing so they could enjoy every aspect of life god provided. He even took them fishing every now and again despite the fact that he found no joy in it. He maintained good friendships with old friends and their families which provided the kids with a plethora of friends whom to this day are thought of more like family that friends. They learned from him that friends can become as genuinely close as blood relatives. He also showed them his love be acting to correct any wrongs done to his family or cutting ties when that become impossible.
Ken decided on electrical sales as his chosen career in which to provide for his family. This had him traveling out of town for work one week of each month, a requirement he would have preferred to avoid. Trudy was an avid gardener in both flowers and vegetables, together they fed their family in large part on the vegetable garden she maintained and the cattle he raised in the field. This passion for gardening made the transition to buying into the flower franchise, Flowerama, a natural fit when noticed the trend his company was following to lay off employees after so many years of service in order to avoid providing them with retirement benefits. Owning a business can be very rewarding but can also cause tension when disagreements arise. The family business was no different for the Rogers' family but the rewards far outweighed the costs due to the teamwork required to make the business successful. This necessary teamwork made those family members involved closer than they sometime would care to admit!
While beginning their new adventures as entrepreneur's grandchildren began to arrive. With the arrival of grandkids Pawpaw was born as well as every ready head-bump! For some unexplained reason, the babies were always made to feel much more comfortable with his famous head-bump that the standard kiss. Being a Pawpaw never got old for Ken, he was happy to assist in driving kids to school. Babysitting or anything he could do to spend quality time with the grandkids. Ken found, as may do, grandkids to be more enjoyable than being a father had been for when the tough gets rough he could simple send home any hooligans. In all there are 24 grandchildren of which he was preceded in death by Maddox (stillborn) and Serena (7 years) who passed nearly in unison with Ken. He enjoyed having as much of the family over every Sunday as possible. He was a stand in for Santa each Christmas at the Rogers household and all presents EVER wrapped by him came in repurposed newspaper. He had an above-ground pool installed in the back yard to entice the grandkids to visit often! July 9, 2017 his granddaughter, Justina married earlier than planned to have him give her away to her new husband.
Volunteer work was ever important for Ken. Throughout his adult life he volunteered with many organizations or simply helped when he noticed something was needed. From early on he was a volunteer firefighter and was the first EMT the Independence Fire Department ever had. He plowed snow off neighbors' driveways up and down the road out of kindness of his heart. After his children were grown he refocused his volunteer efforts from child leader/coach to community outreach. He regularly volunteered with the Honor Guard to grant veterans the honorable funeral they deserve. Medical Reserve Corps, NKY Emergency Response Team was another volunteer position he chose. As church was very important to him, he volunteered for the diocese of Covington Cursillo. With Saint Cecilia, he volunteered for the Bereavement Committee, as a lector, on the school board, as a CCD teacher, Super Potato masher & fish fry extraordinaire. Other volunteer positions he held included Knights of Columbus, Holy Name and CASBA.
We would like to thank all friends and family for their love and support. We love you Dad/Pawpaw, we will all miss you like crazy you old fart!
To send flowers or a remembrance gift to the family of Kenneth Patrick Rogers, please visit our Tribute Store.
Previous Events
Visitation
St. Cecilia Roman Catholic Church
5313 Madison Pike
Independence, KY 41051
Service
St. Cecilia Roman Catholic Church
5313 Madison Pike
Independence, KY 41051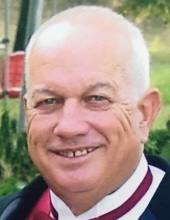 Thank you for sharing your
memory of Kenneth
Provide comfort by sending fresh
flowers from our local florist.
No thanks, please don't show me this again.